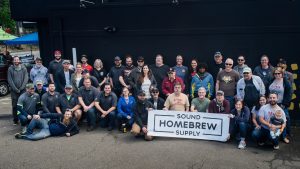 Saturday 2 pm at Lowercase Brewing (Map).
Details
Each lowercase brewing customer will receive 1 scoresheet – after sampling the Big Brew beers (2oz pours from Lucas & John) they will be asked to rank the top 3 homebrews 
BJCP Guidelines have nothing to do with this one. Vote for your FAVORITE
The winning beer will receive a medal and be commercially brewed, available on tap later this summer.
For those entering beers, it is fine to bring them in bottles, growlers, or kegs**. Please have your beers to the brewery well before 2 pm; Lucas will be there at noon to set up. And please make sure there are no distinctive markings on your container(s). We will do our best with ice chests and cups, but you should make sure to provide plenty of carbonated beer that is easy to serve (ice, buckets, CO2, picnic taps, etc), in whatever format you choose.
**For those bringing corny kegs, please note we will likely pre-pour your beer into cups or serving pitchers